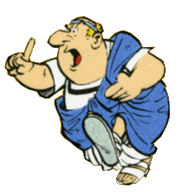 Radius
is an observant Roman: On the wedding day he gives his wife Flavia a romantic river cruise for the City of Lights - Lutetia. Everything is extremely idyllic ... Except that the romantic moment quickly passed.
Asterix
and
Obelix
are in a hurry to get to Lutetia to win the legendary culinary bet they have negotiated with
Overanxius
. Without further ado, they convert the ship into one of our two lovebirds to outboard, with Obelix as real turbo engine and a fuel called magic potion. Flavia, the indomitable Gauls welcomed our first shows very much, but later rather jumpy. As for Asterix and Obelix, it was good to hurry so, because in Lutetia they will get acquainted with a little more anonymous white dog that will prove quickly that our two heroes to follow for him an "idee fixe" is.
Ad blocker interference detected!
Wikia is a free-to-use site that makes money from advertising. We have a modified experience for viewers using ad blockers

Wikia is not accessible if you've made further modifications. Remove the custom ad blocker rule(s) and the page will load as expected.