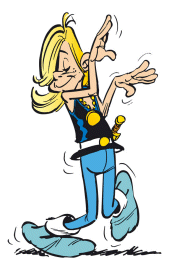 The young nephew of Chief
Vitalstatistix
, an enthusiast of swift chariots made in Mediolanum (Milan) and a big fan of the boisterous music of the catacombs of Lutetia, Justforkix is sent by his father to the Village to learn how to become a true Gaulish warrior.
Asterix and Obelix are responsible for his training, but have to contend with the terrible Normans who see in him an « expert on fear » who will lend them wings! &nbsp
Justforkix's name is a reference to the term 'just for kicks'.
Ad blocker interference detected!
Wikia is a free-to-use site that makes money from advertising. We have a modified experience for viewers using ad blockers

Wikia is not accessible if you've made further modifications. Remove the custom ad blocker rule(s) and the page will load as expected.