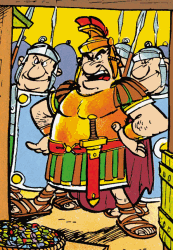 For
Asterix
and
Obelix
, facing up to a whole Roman legion is child's play, a game they never tire of. Yet when our two heroes find themselves in Camaracum (Cambrai), intent on finding this town's famous speciality, mint sweets better known as «Humbugs», it's the Roman centurion
Goldenslumbus
who falls into a second childhood.
Determined to lock up our two indomitable friends, Goldenslumbus calls for a gobstopper (dixit Obelix) and finishes by falling sound asleep, knocked out, as he should be, whilst a soft voice gently sings a local lullaby «Sleep Little Roman, do not cry!» And in an instant our imposing and vehement Roman centurion is as harmless as a baby!
Ad blocker interference detected!
Wikia is a free-to-use site that makes money from advertising. We have a modified experience for viewers using ad blockers

Wikia is not accessible if you've made further modifications. Remove the custom ad blocker rule(s) and the page will load as expected.