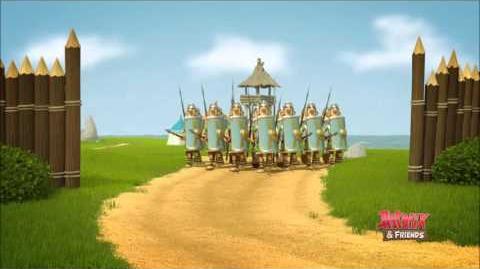 Asterix and Friends is a multi-platform game based on the original Asterix comics. The game was released in 2016 as a 'builder game' developed by Sproing and managed by Bandai Namco Entertainment. An app can be downloaded from the Apple AppStore, Google Play, or otherwise accessed through FaceBook. Players may interact with each other across platforms through chat, guilds, trading, and competitive features.
In the game, each player takes charge over a village, rebuilding it and choosing a unique name for it. The villagers are drawn in a style somewhat resembling the original major characters of the Indomitable Village and have similar personalities, but are given different names.
It is free to play the game, but players may purchase in-game currency and use them in turn to obtain items or reduce waiting times.
Game Features
Edit
Build your own Gaulish village in the world of Asterix, Obelix and Dogmatix
Gather resources and items and refine them
Improve and decorate buildings
Find friends and play together
Receive exciting assignments from Asterix, Obelix and the other villagers
Hunt boars and go fishing
Beat up Romans and take back the occupied surroundings
Characters from the original series who appear in the game include Asterix, Obelix, Getafix, Edifis, and Ekonomikrisis.
The main character controlled by the player is named Pointandclix.
Certain game features draw extensive inspiration from the following comic books:
The game can be accessed through these platforms:
Ad blocker interference detected!
Wikia is a free-to-use site that makes money from advertising. We have a modified experience for viewers using ad blockers

Wikia is not accessible if you've made further modifications. Remove the custom ad blocker rule(s) and the page will load as expected.