Alexandre Astier (born 16 June 1974) is a French writer, director, editing|editor, scriptwriter, humorist, actor and composer.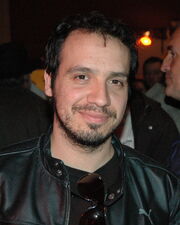 He is most known as the creator, director, writer, editor, composer, and lead actor of the French television series Kaamelott, in which he also plays King Arthur.
He directed the film Asterix: The Mansion of the Gods
Life and career
Edit
He is the son of Lionnel Astier (Léodagan in Kaamelott) and Joëlle Sevilla (Séli in Kaamelott). He studied music at the conservatory and at the American School of Modern Music of Paris. He also studied acting and screenwriting.
Ad blocker interference detected!
Wikia is a free-to-use site that makes money from advertising. We have a modified experience for viewers using ad blockers

Wikia is not accessible if you've made further modifications. Remove the custom ad blocker rule(s) and the page will load as expected.